Tuesday, July 17, 2007
Sunday, July 08, 2007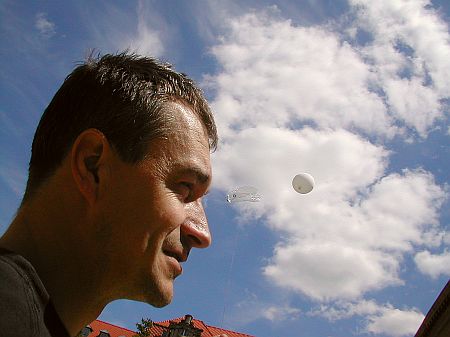 Here is a picture of Guy van Belle (
gevan bella
) the now Eastern European racountuer and instigator in Berlin on a fine afternoon at the Tesla new media center in June of 2005. You see the experimental stuffed panda balloon in the distance. Photo by Tim Perkis
On 7-7-07 at 7 pm Guy was playing "tubes and flutes" on his mac through the
t-u-be vst plugin
to the inventive people at t-u-b-e from his front room in Brataslava. As he said in an email:
contributing for the workshops by http://www.t-u-b-e.de/
(it is in an old brewerey in a very beautiful cellar in münchen with a good technological setup
but I guess since I am playing from home missing out on that too .. hihi)

and isn't that the problem with doing network music. Concert promoters save so much on air fare. I like the
deep listening convergence
scheme cooked up by Vonn New and Pauline Oliveros to rehearse online and then fly everyone in to play together. Much better and very special, I was so happy to be a part of it.
Don't miss my recent interview that is now available on the turbulence.org
Networked Music Review
. It was so very nice of Helen Thorington to have me. If you haven't checked the site out your really should. It is fantastic.
Labels: "guy van belle" "network music"